Onderzoek: Wat doen en willen communicatieprofessionals in de zorg?

maandag 28 augustus 2017

15:33
Bij weinig beroepsgroepen zal onder één noemer zoveel uiteenlopend werk te vatten zijn als bij communicatie. Logeion Netwerkgroep Zorgcommunicatie (LNZ) vroeg communicatieprofessionals in de zorg naar hun huidige en gewenste positie in de organisatie'. En peilde aan de hand van stellingen de tevredenheid over hun werk, positie en invloed. 'Meer dialoog en iets verder vooruit kunnen en mogen kijken zou fijn'.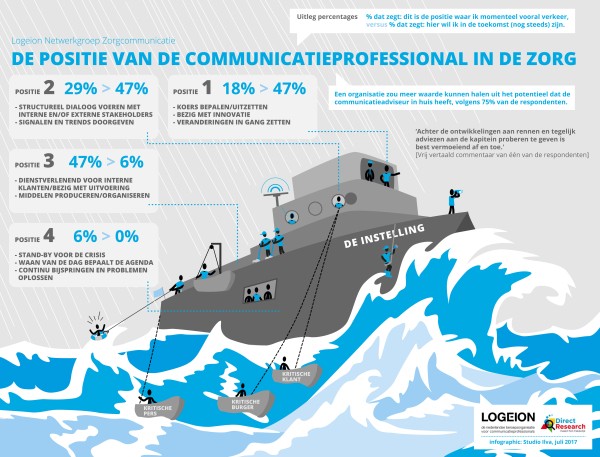 Bekijk de positie van de communicatieprofessional in de zorg (PDF)

De uitkomsten zijn vanwege de bescheiden respons (22) tentatief. Toch vormen ze voor LNZ een nuttige referentie om behoeften te bepalen en activiteiten verder vorm te geven.

Waar zijn communicatieprofessionals in de zorg mee bezig?
Elke respondent is zeker een deel van de tijd bezig met de uitvoering, oftewel de productie van middelen. Dat is logisch, want dit is core business. De helft van de respondenten geeft aan vrijwel volledig of voornamelijk met de uitvoering bezig te zijn. Een derde van de respondenten beschouwt het signaleren van trends en het vragen van aandacht daarvoor als hoofdactiviteit. Een reactie: 'Als adviseur patiëntencommunicatie heb ik veel gesprekken over het beleid binnen onze organisatie. Dit houdt in: signalen oppakken en uitzetten om zo de kwaliteit en de service te verbeteren.'
Circa twintig procent geeft aan voor het grootste deel van de tijd mede aan het stuur van de organisatie te staan. 'Crisiscommunicatie wanneer nodig en de waan van de dag trekken ook aan ons.' Een van de respondenten zegt daar ook echt meer dan 50% van de tijd mee bezig te zijn: 'We zijn niet helemaal met de waan van de dag bezig, maar wel een heel eind', zo vat deze respondent de keuze in de toelichting samen.
Waar willen communicatieprofessionals mee bezig zijn?
Zijn de respondenten content met hun positie? Met een schip als metafoor, vroeg LNZ welke beweging communicatieprofessionals in de toekomst in de organisatie willen maken. Een deel van de respondenten is wel min of meer content met de huidige positie. Maar de meesten geven toch aan te willen opschuiven, en wel richting de brug van het schip. Dit komt neer op meer tijd hebben voor verdieping, vooruit kijken en bezig zijn met het verbeteren van het primaire proces. Ook genoemd worden: graag zorgpaden in kaart brengen met het oog op het verbeteren van de communicatie, meer vrijheid, tot en met 'liefst met de Raad van Bestuur de koers uitzetten en veranderen'.
'Nu rennen we achter een rijdende trein aan, en terwijl we dit doen proberen we adviezen aan de machinist te geven. Best vermoeiend af en toe.'
Een enkeling zou zich in de toekomst nog steeds met name met uitvoering willen bezighouden. Maar tachtig tot negentig procent van de ondervraagden wil opschuiven naar een positie met meer aandacht voor advies en verdieping. Men wil meer invloed op het beleid kunnen hebben. 'Dat communicatie signalerend is en mede het beleid bepaalt, is wat de organisatie nodig heeft', is een stellig commentaar. Een respondent verwoordt het zo: 'Nu rennen we achter een rijdende trein aan, en terwijl we dit doen proberen we adviezen aan de machinist te geven. Best vermoeiend af en toe.' Dezelfde persoon ziet wel een wenkend perspectief: 'Wat zou het fantastisch zijn om meer betrokken te zijn bij komende veranderingen en daar een goede interne en externe communicatie op af te kunnen stemmen.' Een ander: 'Communicatie met klanten en andere stakeholders is moeilijk, ingewikkeld en helaas ook heel vaag. Ik zou graag op beleidsniveau dingen scherper willen krijgen, maar er is zoveel tumult in zorgland dat dit niet de prioriteit heeft.'
In de commentaren is het besef aanwezig dat alleen het bereiken van de positie niet voldoende is. Het gaat natuurlijk om daadwerkelijk invloed uitoefenen. De status laat soms wel te wensen over. Tenminste, dat kan uit de volgende citaten worden afgeleid: 'Het management bepaalt, communicatie voert vooral uit.' 'Ik kan wel signalen doorgeven, maar ons advies is "niet altijd leidend".' 'De bestuurder blijft mij hardnekkig communicatiemedewerker noemen, vraagt wel steeds vaker mijn zienswijze, maar legt die ook nog regelmatig naast zich neer.' Je proeft de ondertoon, zullen we maar zeggen.
Opschuiven realistisch?
Velen zien wel in dat een positie met meer ruimte voor verdieping en invloed op beleid toekomstmuziek is die niet op korte termijn zal klinken. Sommigen commentaren zijn berustend van aard. Het volgende citaat geeft de rode draad van deze antwoorden goed weer: 'Meer dialoog en iets verder vooruit kijken zou fijn zijn.' Meer ruimte om dialoog te voeren wordt overigens in de toelichtende commentaren veel genoemd. Iemand zegt: 'Ook al blijven middelen belangrijk, ze worden altijd beter als de dialoog goed is geregeld.' Het perspectief: 'Communicatie signaleert, verbindt, bouwt bruggen, gaat de dialoog aan, en informeert op continue basis.' De realiteit ...?
Duizendpoten
Het vak is gevarieerd en de afgelopen jaren nog gevarieerder geworden, zo luidde een van de stellingen. De communicatieprofessional in de zorg moet van meer markten thuis zijn. Zo'n tachtig procent beaamt dit. Een derde tot de helft is het hier zelfs 'zeer mee eens'. Minder dan tien procent ervaart deze ontwikkeling niet. Over de voor- of nadelen hiervan zijn de respondenten verdeeld. Er wordt door de ene helft gesteld dat bezig zijn in de breedte juist nodig is om zorgverleners en medewerkers goed te kunnen adviseren. Een commentaar in die lijn luidt: 'Sinds ik algemeen adviseur ben is mijn werk veelzijdiger geworden en ben ik een betere gesprekspartner.'
De andere helft voert aan dat versnippering ten koste gaat van de kwaliteit van het werk. Veel borden in de lucht houden kan leiden tot fouten. Reacties in deze lijn zijn:
'De doorlooptijd van projecten wordt langer omdat je je aandacht moet verdelen.'
'Je hebt geen tijd om veranderingen in het vak te volgen of je ergens in te verdiepen, dus het werk is minder effectief.'
'Het voelt soms alsof de zorgsector een consumptiemaatschappij is geworden: deze ontwikkeling vertaalt zich naar vragen die bij onze afdeling binnen komen. (We doen ons best, maar ...) het is te veel, te snel en te weinig doordacht.'
'Burn-out ligt op de loer. Wie niet goed kan prioriteren, zal stress ervaren.'
'Te weinig tijd voor verdieping, kritischer kunnen zijn op eigen werkzaamheden is wenselijk.'
Potentiële meerwaarde komt er niet uit
Driekwart van de ondervraagden onderschrijft de stelling dat communicatieprofessionals in de zorg in het algemeen worden overvraagd voor wat betreft uitvoerende zaken, en ondervraagd voor wat betreft de meerwaarde die zij kunnen hebben bij het doorvoeren van nieuwe inzichten en methodieken. Een organisatie zou meer waarde kunnen halen uit het potentieel dat de communicatieadviseur in huis heeft, zou de conclusie kunnen zijn.
Betrokkenheid
Hoe ziet die meerwaarde eruit? In ieder geval uit een grote betrokkenheid bij goede zorg. Een paar citaten uit de toelichtingen die dit onderstrepen:
'Ik zie bij veel zorginstellingen die ik volg nog veel ambtelijkheden en een bevestigend beeld schetsen hoe zorg werkt, niet hoe de zorg zou moeten/kunnen werken.'
'Laten zien wat er speelt, wat er gebeurt en welke visie er is, is volgens mij heel belangrijk om de patiënt/cliënt betrokken te krijgen bij zijn/haar verzorgingsproces. Het laat namelijk zien dat het kan, dat het zelfs moet, je eigen wensen, waarden en normen uitspreken. Je hebt zelf invloed op de zorg voor jezelf en je naasten.'
'Hoe wil je naar buiten treden en welk beeld/gevoel wil je je doelgroep van je organisatie meegeven? Dit is te belangrijk om zonder communicatie te bepalen.'
'Ik zie een structureel probleem dat de communicatieafdeling te klein is ten opzichte van de grootte van de organisatie. Prioritering is dan van levensbelang, maar wordt door managers vaak weggewuifd (dit moet nu, dat kan wachten), waardoor de waan van de dag het overneemt.'
'Hoe kan dit probleem worden aangepakt en hoe nemen wij onze verantwoordelijkheid?', zo besluit een respondent een commentaar.
Meer weten? Neem dan contact op met LNZ. Dat kan via Dianne Alewijnse: d.alewijnse@gelre.nl.